Our GHHS TED-ed Club is off to a great start! We have shared some ideas we want to explore and talked about "What Makes a Great Idea…..Great!"
A Long Way Gone is an amazing book on many levels. First, the story that Ishmael Beah tells is an emotional one and one that is staying with me now that I have finished reading. He tells of his teenage years, first as a child soldier in the midst of horrific warfare, and then as he was rehabilitated and began his path to his adult life in the US today. Secondly, Beah has an incredible voice as an author. I was struck many times by the sheer beauty of the way he put words together. He was able to bring humor to his story, too, as he described his first journey to New York City in the winter and seeing snow for the first time. Last but not least, I was reminded of the power of forgiveness. I wonder if we could apply more of this philosophy of rehabilitation in the US. We accept these young people into the US and elsewhere because as children they were exposed to violence and kept drugged so that they could survive and so that they would follow the orders of the drug lords. Once they have been rehabilitated, they are considered valuable members of society and can pursue their lives as Beah has done and rightfully so. I'm not sure we always give our own teens who have been "jumped in" to gangs at an early age or forced to live homeless the rehabilitation and then the respect they are due. Why are we so eager to incarcerate our own young people instead of redeeming them and helping them become part of our society? Why do we think that just growing up and getting a job will solve the problems of the emotionally devastated? Why are those that help often labeled "enablers" instead of celebrated with pride? Why are we so afraid of our own teens that we feel we need to "stand our ground" against them? These are questions I am still pondering after reading this meaningful memoir, A Long Way Gone.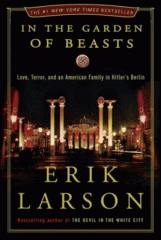 I have read a lot of historical fiction and other nonfiction materials about the Holocaust, but never anything about Dodd and his family and their roles in Germany in the early 1930s. This book was well researched and intelligently written. I think the most interesting thing about the book was the exposure of how much the United States government knew about how much power Hitler was grabbing. In hindsight, we of course know what's coming and can hardly believe that there was no real outrage over the horrific actions taking place. I found Dodd's daughter Martha's story much less engaging. It just seemed to be about one affair after another and never really drew me in. Dodd should be given credit for realizing how brutal the leaders were and In the Garden of the Beasts gives him that recognition. Unfortunately, I was somewhat bored with parts of the book because I knew the history so well already and nonfiction writing just doesn't create an empathy for the characters like fiction does.
When I started this book, it was such tough subject matter that I almost decided to set it aside. All of the sudden, though, Matthew Quick's writing just wouldn't let me do it. I also remembered how much I loved the movie Silver Linings Playbook based on one of his books and I was thoroughly hooked. Leonard's voice was amazingly accurate in its portrayal of a rejected and troubled teen.  It is indeed a disturbing book. As a high school teacher committed to teaching and helping all the students in my care, it was also ultimately uplifting. Teachers today are often scared to go to the extent needed to truly help because of the few who have been inappropriate or abusive  and in the news. Forgive Me, Leonard Peacock also gave me the courage to continue to help when I can.
Maggie Stiefvater is one of my all-time favorite writers. She always does her research and weaves mythology and reality together to create a fantasy that feels like it could be truly happening. Her writing is so sophisticated and intense that I have a visceral reaction to passages and find myself literally holding my breath. The car race in The Dream Thieves and its aftermath with the terrifying night horrors with their "tck-tck-tck-tck" is my favorite example of this feeling. On top of that, I have listened to the two books and love the voice of Will Patton as reader. The characters come to life in his renditions. Since Stiefvater is also a musician, listening gives the added bonus of hearing the music she creates and plays for her books. Ley lines, dreams becoming reality, ghosts, magic, secrets and a hit man all play a part in this riveting story. The book is slow moving at times, but I was too wrapped up in the intricacy of the writing and the sound of Patton's voice to mind. 
Since Seattle has hosted a World's Fair, I was interested to read the story of another city I'm pretty familiar with (my sister lives in Evanston outside of Chicago) and their experience building and hosting a fair. I loved reading about the construction of the first Ferris Wheel because I spent many summers working at an amusement park. Add to that a murderer on the loose and you get a gripping tale! This book has been recommended to me many times and the book was deserving of the rave reviews. There is still something about nonfiction writing that keeps me feeling less engaged with the characters, but in this one, the true crime aspect of the story was riveting and well told. The Devil in the White City truly lived up to his reputation!
Blizzard of Glass is a blend of reporting and first hand accounts of the Halifax Explosion of 1917. The writing is straight forward and pictures from the time period are included. This disaster is less well known than others, but no less horrific. Halifax had to process many bodies after the explosion that destroyed their town and they had sadly had practice as the closest city to the Titanic when it so famously went down. Schools were brought down to skeletons and many children lost their lives. Survivors who shared their stories made this account possible and many showed great courage as the disaster unfolded. This was a fascinating book about a sad moment in Canadian history.
Joyce Carol Oates is such a prolific writer that it's no surprise that she turns out some YA books along with her large collection of adult books. I enjoyed Freaky Green Eyes, but I do think it might appeal more to adults that read YA than teens. That is because Oates includes a lot of the story of the adults, and even though the events are seen through Franky's (aka Freaky) eyes, I felt a connection to the mom that Franky was unable to understand until the end. The writing was excellent, the characters believable and the plot kept me reading, so for me it was a 4 star book. 
I am always drawn in by the plight of the poor and Germinal took me into the world of the miners in France. It was one of the more intense descriptions of the downtrodden that I have read. It surprises me that this is my first Zola, but also makes me happy to have discovered a new classic author that I really enjoy. The writing style is straightforward and the characters are interesting plus the plot carries the reader along into this desperate world of the families striking and starving in order to improve their living conditions. I am disappointed that my library system doesn't have a better Zola collection, because I want to read more! The next ones on my list are Therese Raquin and/or Pot Luck which is the prequel to The Ladies Paradise which I am watching on Masterpiece Theater right now (titled just Paradise). I was almost late to work this morning finishing up the gripping ending to Germinal!
Joyce Carol Oates takes on the famous authors Poe, Dickinson, Twain, James and Hemingway and creates fictional stories imagining events based on some aspect of their lives and writing with a similar voice. Since I just read a good amount of Poe, I definitely recognized the voice in that story. My favorite story was about Emily Dickinson going to live with a husband and wife as a robot called a RepliLuxe. Poetry was a part of the story, but it was the idea of the RepliLuxe and the humor in the story that I loved. "Grandpa Clemens" was a bit creepy and I would like to read more of the facts of his life to find out how much was exaggeration and how much was "truth". I thought the last two stories were well written, but although I thought the last one on Hemingway captured his writing voice, it was just all dark and not very appealing. Taken as a whole, though, it was a strong collection.